Apples are not only delicious, but also a great help in losing weight. Their versatility in the kitchen and their health benefits make them a local, seasonal and affordable diet food. With these recipes you can incorporate them into your eating plan.
Why are apples so healthy?
It is not for nothing that it is said: "An apple a day keeps the doctor away". They are rich in fiber, especially pectin, which promotes satiety and stabilizes blood sugar levels. In addition, they contain a variety of vitamins and antioxidants that stimulate metabolism and strengthen the immune system. With only about 52 calories per 100 grams, apples are a low-calorie but nutrient-rich choice that fits perfectly into any diet.
Other healthy diet aids include quinces. But you can also quite happily reduce your weight with a low-carb plum cake or a healthy (and hot) cabbage soup.
You can incorporate these recipes into your diet:
1. Oatmeal with Apple and Cinnamon:
In the clip: You should definitely avoid these 3 mistakes when making porridge
Step 1: Mix the porridge
Mix tender oats (also helps you lose weight), chopped apples, a pinch of cinnamon and milk.
Step 2: Bring the porridge to a boil
Bring everything to a slight boil and then cook until it reaches the desired consistency.
Step 3: Sweeten and enjoy
Optionally sweeten with honey.
2. Green salad with apple and walnuts:
Mixed leaf salads

1 apple

1 handful of walnuts

Juice of one lemon

2 tablespoons of olive oil

Cranberries

Salt and pepper to taste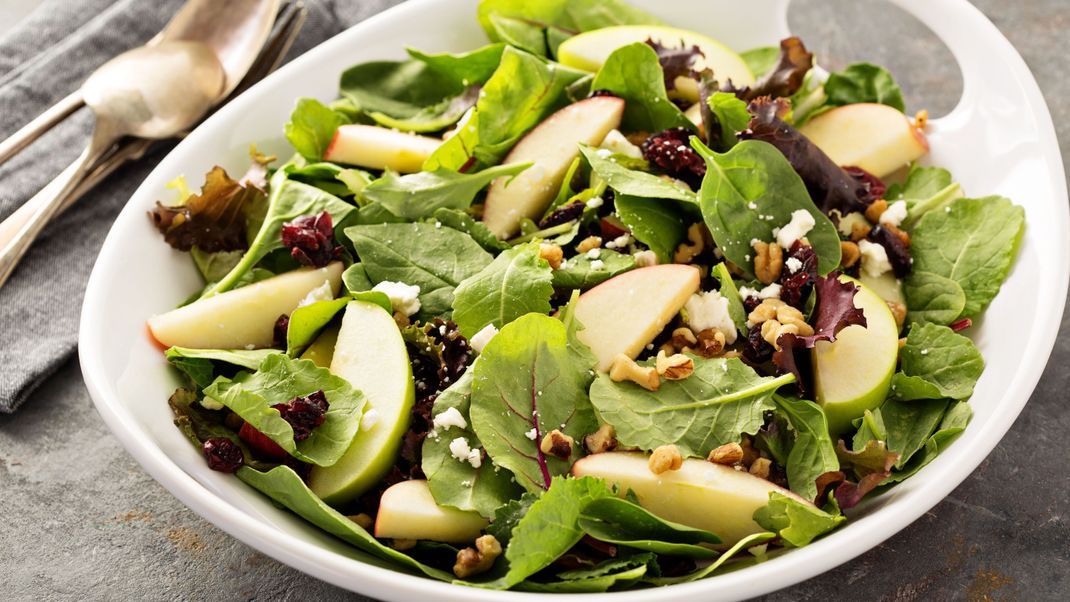 Step 1: Chop and Mix
Mix the lettuce, thinly sliced ​​apples and walnuts.
Step 2: dress
Season with a mixture of lemon juice, olive oil, salt and pepper.
Step 3: Garnish
Finally decorate with some cranberries.
A fried chicken breast, fish, or other low-carb dish goes perfectly with this.
3. Apple and Walnut Muffins:
200 g spelled flour (as an alternative to white flour)

150g yogurt

100 g of apple puree

50 ml rapeseed oil

2 eggs

2 teaspoons of baking soda

2 apples

0.5 teaspoon of cinnamon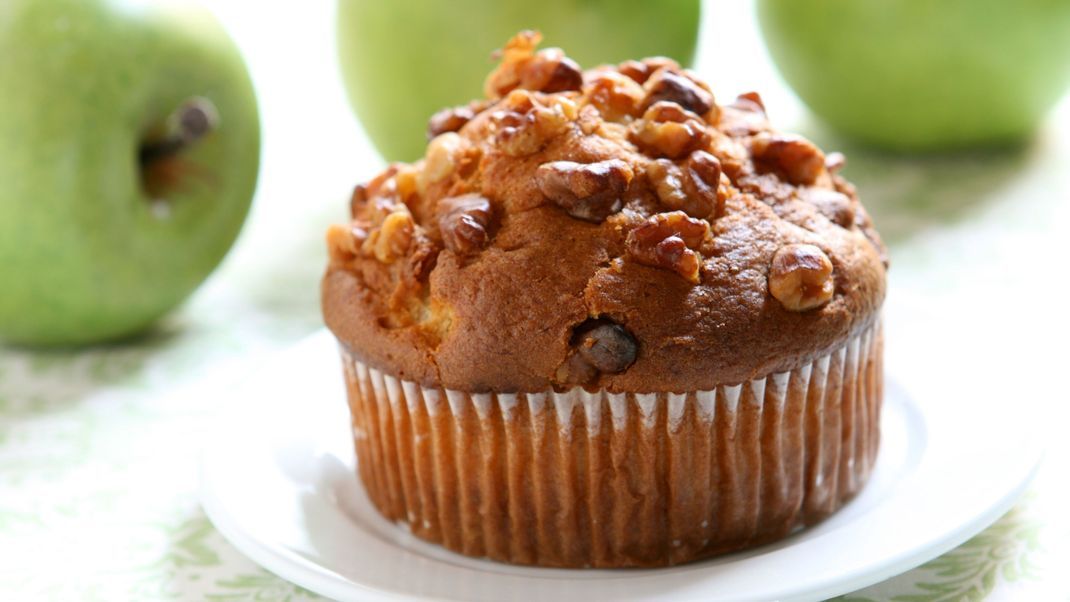 Step 1: Cut
Peel and cut the apples.
Step 2: Prepare the dough
Mix oil, yogurt and eggs until you get a creamy, frothy mixture.
Step 3: Prepare the muffin batter
Add the applesauce, flour, cinnamon and yeast and mix well.
Step 4: Apple Muffins
Add the apple slices and divide the dough into muffin cups.
Step 5: Bake
Bake the muffins at 180°C (fan oven) for 20-30 minutes.
4. Apple and Carrot Salad with Walnuts:
2 apples

2 carrots

1 handful of walnuts

Juice of one lemon

2 tablespoons of honey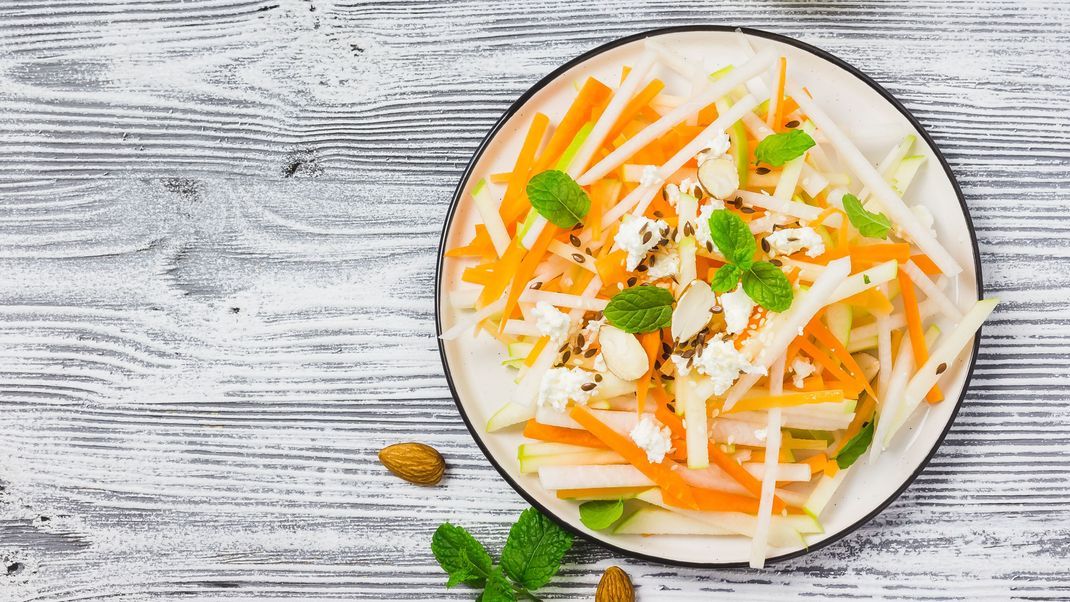 Grate the apples and carrots, mix with chopped walnuts and pour over a mixture of lemon juice and honey.
Alternatively, you can try a honey mustard sauce.
5. Apple and Celery Soup:
For 4 people:
1 tablespoon of olive oil

1 chopped onion

1 clove of minced garlic

500 g celeriac, roasted and cut into cubes

2 apples, cored and cut into cubes

750 ml vegetable broth

Salt and pepper to season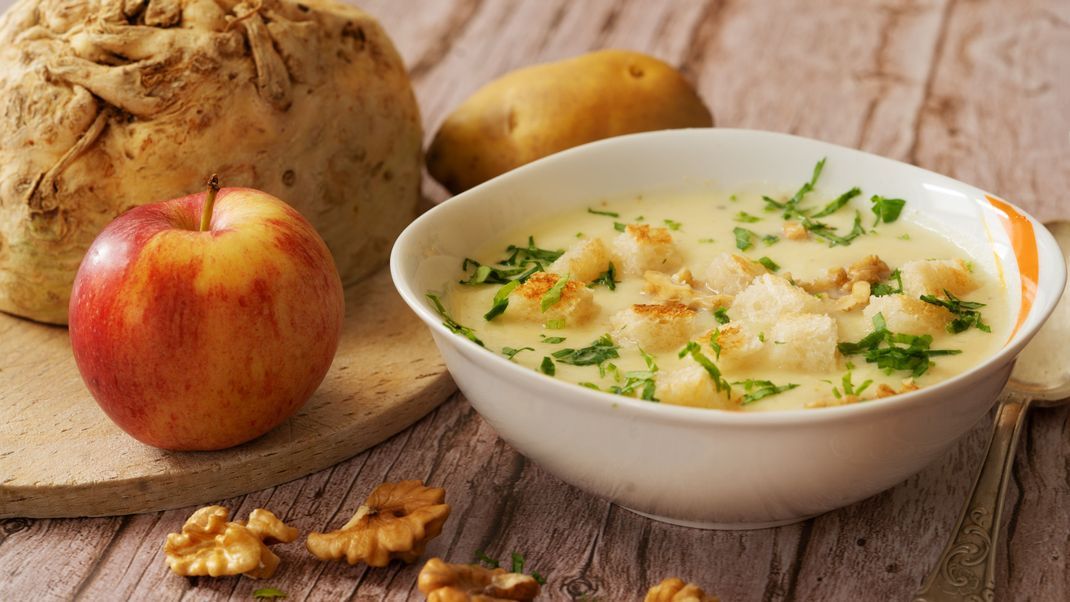 Step 1: Sauté
Heat the olive oil in a large pan. Sauté the onion and garlic until translucent, about three minutes.
Step 2: Celery and Apple
Then add the celery and apple (both chopped) and sauté for another three minutes.
Step 3: Cook the soup
Then deglaze the mixture with vegetable broth and cook covered for 15-20 minutes.
Step 4: Puree Apple and Celery Soup
Now blend the soup with a hand blender until it is creamy. If the consistency is too thick, you can add a little more vegetable broth or water.
Step 5: Season and Serve
Season the pureed soup with salt and pepper. Garnish with chopped parsley, chives or croutons, if desired.