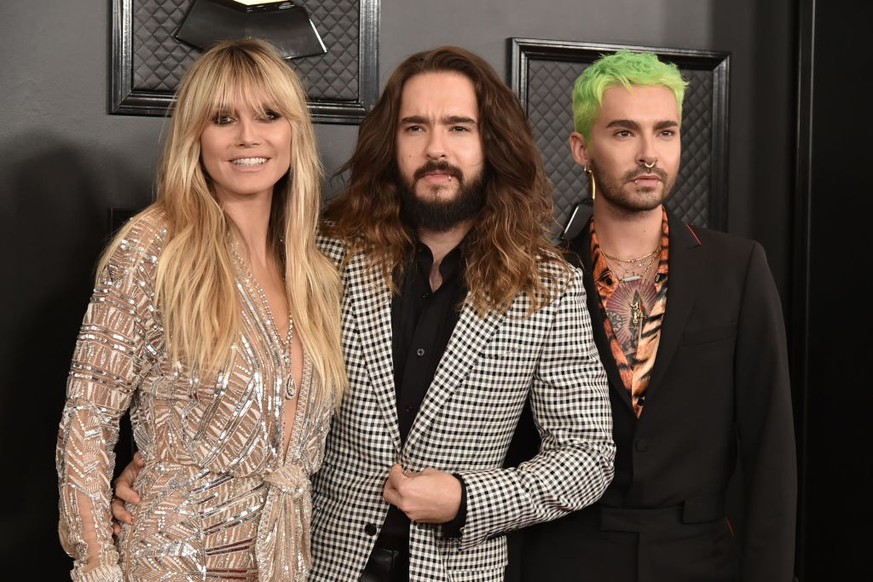 Bill Kaulitz can always be seen alongside Heidi Klum and her brother Tom. Image: David Crotty/Patrick McMullan via Getty Images
Celebrities
Bill and Tom Kaulitz have been appearing on German television for some time. The Tokio Hotel twins had their own show with "That's my Jam" and have been on the jury of "The Voice of Germany" for a few weeks now. Regardless, there is always speculation that Bill and Tom could be planning new TV projects.
Just a few weeks ago, the rumor mill was buzzing. Because Bill's visit to Oktoberfest caused quite a stir. On the one hand, because he kissed model Marc Eggers in one of the tents. On the other hand, because the two were apparently accompanied by a camera as they walked through Oktoberfest. The question of whether Bill and Marc would participate in a reality television format quickly arose.
Now Bill has been surprisingly open about his future plans. The singer responded to a reporter's question in a much more specific way than the reporter expected.
Bill Kaulitz announces TV project
Bill and Tom recently recorded an episode of their podcast in Hamburg. In "Kaulitz Hills" things always get very private; Tom occasionally gives fans information about his marriage to Heidi Klum. Bill also talks openly about his love life on the podcast.
The theme of reality television also often played an important role in "Kaulitz Hills". Some time ago, Bill declared that he would like to compete as a Singles. The singer already has very specific ideas about his participation there.
Bill has specially planned the first moments when candidates see him as single. "I then stand there with my back to the car where the boys are sitting, and then I turn around and they say 'Oh, that's Bill Kaulitz'. Then they can decide if they want to stay there or leave." he explained on the podcast.
Watson is now on WhatsApp
Now on Whatsapp and Instagram: your Watson update! We provide you with the highlights of Watson's day here on WhatsApp. Just once a day – no spam, no blah, just seven links. Promised! Do you prefer to be informed on Instagram? Here you will find our broadcast channel.
At the taping of "Kaulitz Hills" in Hamburg, an RTL reporter asked Bill which reality show he would take part in. The singer responded in a completely surprising way:
"Wow. Oops, I messed up."
So did Bill actually accidentally reveal an upcoming TV project? If you believe the spoiler warning, a reality show featuring him and – probably – brother Tom could actually be in the works. And wherever Tom and Bill Kaulitz are, Heidi Klum isn't far away either. So could there soon be a reality show featuring the entire Klum-Kaulitz clan? However, the suggestion seemed very similar.
Bill sees himself as single
Of course, Bill hasn't revealed exactly what kind of show the new project is. It remains to be seen whether Marc could have had anything to do with it or whether Bill would actually become the new Bachelorette. If Bill actually goes on a dating show, he thinks his chances are good.
Either way, Bill is looking forward to his hypothetical appearance on "The Bachelorette." "I think a lot of people would be there. A lot of people would be like, 'Yeah, okay, I'll try. I'll go on a date. Let's go on a date and see things through first,'" he explained on the podcast a while back.
Fake images and videos circulating on the Internet are not uncommon. Collien Ulmen-Fernandes recently made it public that she was a victim of deepfakes. Pornographic images and videos of her – or at least of her head – were circulating.