Even though the opening game won't take place until June 14, 2024, Benjamin Henrichs is already looking forward to the European Championship at home. He wants to put the turbulent international year of 2023 behind him, with its many setbacks, including the recent 2-3 home defeat against Turkey – with a strong performance and victory on Tuesday night against Austria in Vienna ( 8:45 pm, on LIVETICKER) .
The 26-year-old full-back speaks before the game SPORT1 about the first impressions of coach Julian Nagelsmann, with whom he previously worked at RB Leipzig, and the differences with Hansi Flick.
Henrichs also looks at his personal development and does not rule out the possibility of moving abroad again. He talks about the plight of his Leipzig teammate Timo Werner, the rise of Leroy Sané and three exceptional young talents he plays with regularly: Jamal Musiala, Florian Wirtz and Xavi Simons.
SPORT1: Benny, the 2:3 against Turkey was the fourth defeat at home this year. This set a negative record from 1956 onwards. Do we have to get used to the idea that Germany is further than ever from the top of the world? Or is this too pessimistic?
Henriques: The defeat is very upsetting to all of us. She showed us how much work we still have to do. Against Austria we now have the opportunity to show that we can do better. And we want to use that.
Henrichs does not believe there is a problem at full-back
SPORT1: Does Germany have problems with full-backs?
Henriques: I wouldn't say that. Take the international match against France as an example: I think Jona (Tah) and I didn't do too bad. We always have to view our performance holistically.
SPORT1: You previously worked with Julian Nagelsmann in Leipzig. What are your first impressions of him as national coach?
Henriques: Very good. Julian has high expectations for us, he works at a very high level, especially in the tactical area. We have a lot of video sessions. It's demanding and demanding, but fun.
SPORT1: Nagelsmann speaks quickly and his exercises are sometimes complex. As a player, can you follow this without any problems?
Henriques: In Leipzig, I once tried to translate a slightly more complicated exercise for Nordi Mukiele and Christo Nkunku. But then I didn't follow up and left it as it was. (laughter) But here I would say that Julian tries to keep everything as simple and straightforward as possible. We don't have many days together, so you have to condense the content and find quick and good solutions. There's definitely a lot of tension there – in meetings, but also in training. You can see that the focus is 100% on football. At the same time, we also gain freedom, we can go out for coffee together on free afternoons and we also do a lot of team building. It's a good mix of serious and fun. It also benefits us that we have a young technical team in general.
SPORT1: Otherwise, there would probably be no Kontra K or Dr. at the beginning of the training sessions. Dre runs, right?
Henriques: I hope they play Burna Boy! (laughter) Seriously, I like the idea of ​​listening to some music while I warm up. Brings good vibes. When you go to the gym, you train with music. I think it's cool that our coaches say: this is how we do it now – no matter what outsiders think!
SPORT1: You did not participate in the trip to the USA in October due to an injury. Is it true that you received homework from Nagelsmann?
Henriques: Yes, I received mainly tactical information, including scenes directly from the USA game and then also from the Mexico game, to understand what the coach had in mind. We have an app for that – with access to additional data that is useful to us. We also work on this at RB Leipzig.
SPORT1: What data is particularly important to you in relation to your own game?
Henriques: I always pay attention to my sprint speed. I have now improved my top speed to 33.87 km/h in the game against Turkey. But I would definitely like to improve there too.
"Of course I want to play in the European Championship as a regular player"
SPORT1: Do you see yourself as a regular player with a view to the European Championship?
Henriques: Of course my goal is to be a regular player at the European Championship. But there's no point talking about it. I have to offer myself on the field, preferably confirming my performance in the game against France in September. Which side you're on doesn't matter to me. I can play on the right, but also on the left. I really enjoyed playing on the left against France.
SPORT1: Was there a winger you looked up to when you were younger?
Henriques: In truth. I played in attacking midfield for a long time and my role model was always Ronaldinho. I admired him; I wanted to play as creatively and intelligently as he did. When I was 19, I was retrained and learned a lot from David Alaba. As a winger, of course, a lot more defensive work is required from you, but that doesn't mean you can't use your offensive qualities. I love getting involved in attacks.
SPORT1: Under Marco Rose you have become an indispensable regular player in Leipzig, he has a lot of trust in you. Is he perhaps the most important coach you've had in your career so far?
Henriques: I would definitely rank it among the most important. It wasn't an easy start, I didn't play with him much at first, but then we had an honest and open conversation. I'm glad I managed to convince you step by step.
SPORT1: Are you happy with your career so far? Do you regret moving abroad to AS Monaco?
Henriques: No, I don't regret moving to Monaco at all. From a sporting point of view, things should have gone better, without a doubt. At the time I thought: OK, I'm going to France to be runner-up and play regularly at the highest level – nationally and internationally. In the end, everything turned out differently – and yet I know that I developed even more as a person. I learned a new language, which will now also benefit me in Leipzig. I can communicate with all my teammates, whether in German, English or French. I matured as a person.
SPORT1: Would the outside be attractive to you again?
Henriques: I'm generally open to going abroad again. But I don't put any pressure on myself. I'm happy in Leipzig and I have a contract there until 2025, that's my focus.
SPORT1: A teammate repeatedly associated with foreign clubs, but also with FC Bayern, is Florian Wirtz. You also left Leverkusen at a young age. What would you advise him?
Henriques: I can't give him any advice. That wouldn't make any sense. Flo is a great player who has to make the best decision for himself. Everyone knows that Flo has a great future ahead of her.
Musiala, Wirtz or Xavi Simons? "I love all three"
SPORT1: In addition to Wirtz, you also play with Jamal Musiala in the national team and have played against Xavi Simons in Leipzig since this season. Who do you like most?
Henriques: That's a really good and difficult question, I love all three of them. They play similar positions, but they are different types of players. Flo has special moves, even when dribbling, he has a great passing game. Jamal has qualities in tight spaces that we have never seen in Germany before; he resolves many one-on-one situations. We need players like that in the national team. What impressed me about Xavi, besides his footballing skills, was how well he immediately adapted to us in Leipzig. New league, new country, new language – many people can't handle it at first. He does. In addition to its technique and effectiveness. It's fun to play with him.
SPORT1: Are you surprised by how well Leroy Sané has developed?
Henriques: No. Leroy shows what he showed in his youth at Leverkusen. I'm glad he's now showing that consistency and getting public recognition.
"Timo will fight his way out of this again"
SPORT1: With your Leipzig colleague Timo Werner, exactly the opposite happens.
Henriques: We sat together on the bench the other day and talked about this a little. It's not easy, in fact he started the season well and fell a little off the pace – also due to illness. Timo will fight his way out of this again!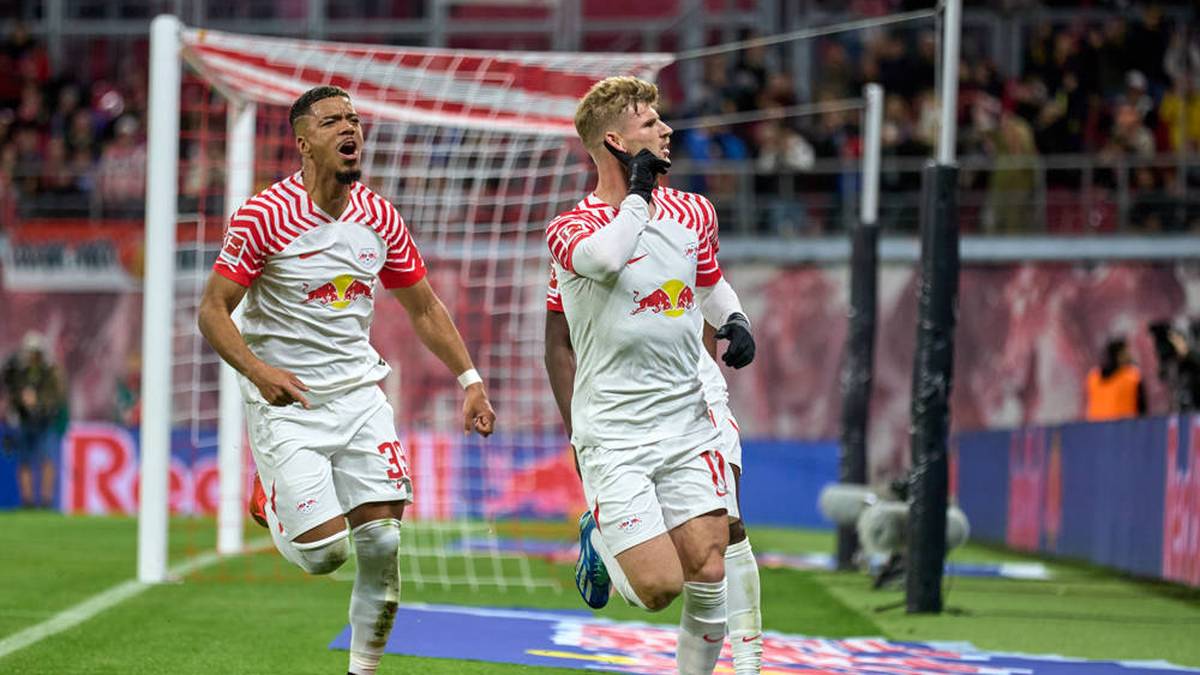 Get to know each other well: Benjamin Henrichs and Timo Werner
SPORT1: Which goalkeeper do you prefer to play with in the DFB team? Manuel Neuer wants to be there again in the new year.
Henriques: My game doesn't change much if Manu, Marc or another of our goalkeepers is in goal. We have many top goalkeepers and competition is part of that. Generally, you can see that appointments and positions are based on performance. Everyone wants to be at the European Championships – especially in their own country!
SPORT1: Are you tingling yet?
Henriques: Yes, it gives me flashbacks to 2006. I was 9 years old at the time and my favorite player was Bernd Schneider. Euphoria was felt throughout the country, each game was a day of celebration, the team was the common denominator of the nation. I hope the same happens in our tournament next year!